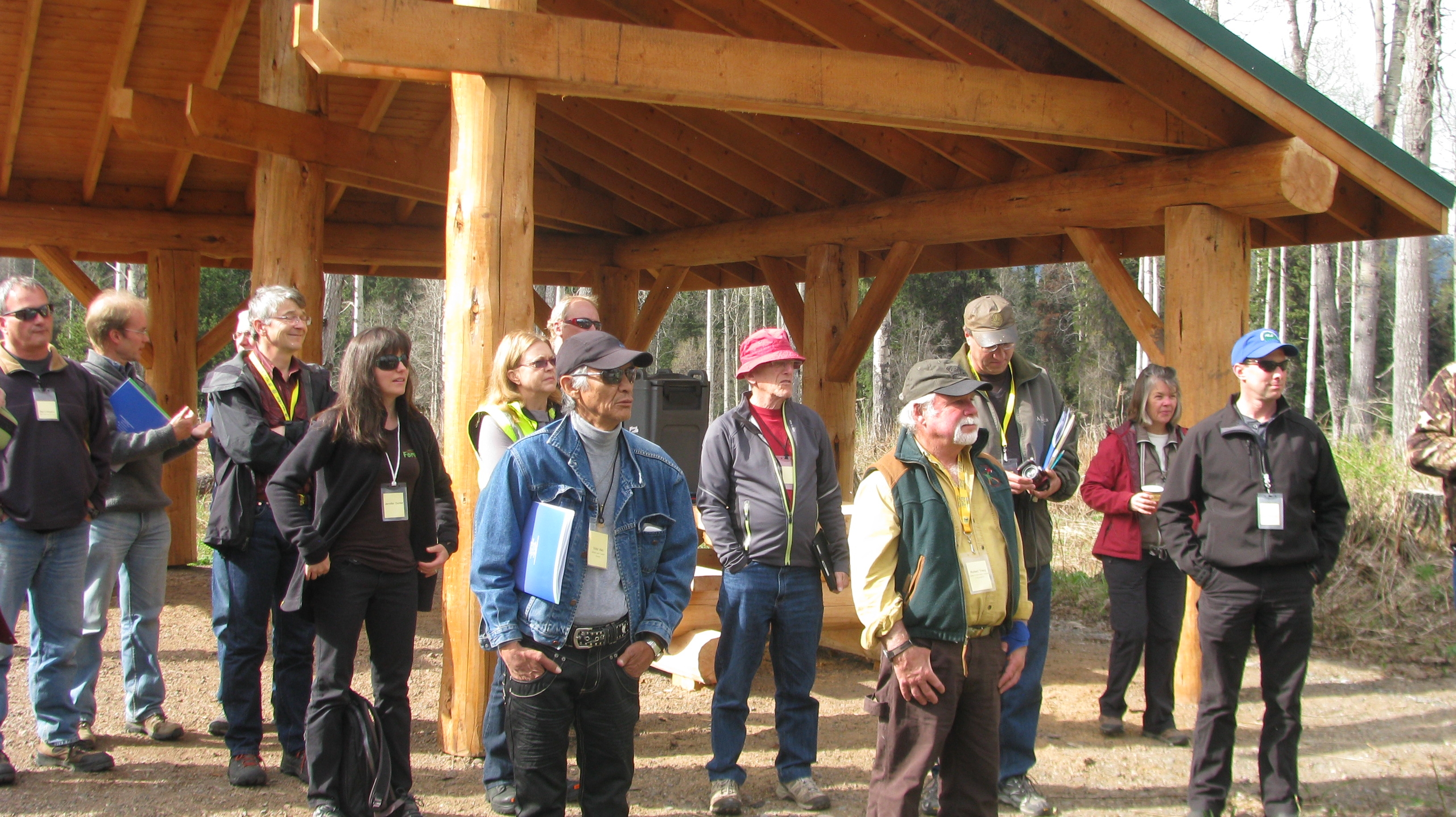 Conference Summary – Please note that the 2013 Report is temporarily unavailable on the website. If you would like a copy of the report, please contact us.
Thanks to the Wetzin'kwa Community Forest for being wonderful organizers and hosts and for demonstrating their meaningful connection with the Wet'suwet'en people. Thanks to the all of the conference presenters and sponsors for their support.
$815 was raised through the Silent Auction. All funds go to 2014 conference sponsorships for student and BCCFA members in need of support.
---
Session Summaries
Highlighted individual session summaries can be accessed here:
Manager's Session
Adaptation Tools
---
---
Presentations
BCCFA Update presented by Jennifer Gunter, BCCFA Executive Director
Ministry of Forests Update presented by Peter Graff, Senior Timber Tenures Forester
Tools for Climate Change Adaptation presented by Kathy Hopkins, RPF, Technical Advisor – Climate Change Competitiveness and Innovation Branch, Ministry of Forests
Association of BC Forest Professionals Climate Change in BC Forests 2013 Awareness Survey presented by Casey Macaulay, RPF Resource Operations Specialist, ABCFP
Implementing Climate Change Lessons at the Operational Level presented by Grant Thompson, RPF, Manager Westbank Community Forest
Adapting to Climate Change presented by Bill Golding, RPF, Silvicon Services and Wetzin'kwa Community Forest
Incorporating First Nation's Perspectives and Cultural Resource Management into Forestry Planning presented by Rick Budhwa Applied Anthropologist and Archaeologist, Crossroads Cultural Resource Management and David de Wit, Natural Resource Manager, Office of the Wet'suwet'en
Non-timber Forest Resources and the Wells Gray Community Forest presented by Samantha Charlton
Wetzin'kwa Community Forest Corporation Value-Added Policy Direction presented by Dean Daly, Director, Wetzin'kwa Community Forest
Forest Sector Technical Support Services presented by Dave Mc Rae FP Innovations, Industry Advisor
Bridges II Project Update presented by Marc von der Gonna, RPF, McBride Community Forest Corporation
Smart Phones and Tablets: Tremendous Potential for Field Data Collection presented by Andy Muma, RTF, Land Information Coordinator, Skeena Region Smithers Ministry of Forests
Measuring the Benefits of Community Forestry presented by Jennifer Gunter
Evaluating Municipally-Owned Corporations as Community Forests Governance Structures presented by Evelyn Pinkerton, School of Resource & Environmental Management, Simon Fraser University
The Community Forestry Guidebook II, Part 2: Effective Forest Management presented by Kathy Coot B.Sc., R.P.Bio., Research Coordinator, UBC Alex Fraser Research Forest
Community Forest Showcase – Esk'etemc First Nation presented by Gord Chipman, RPF, Manager, Alkali Resource Management
Community Forest Showcase – Likely Xatsu'll Community Forest presented by Robin Hood, Manager and Thomas Phillips, Director