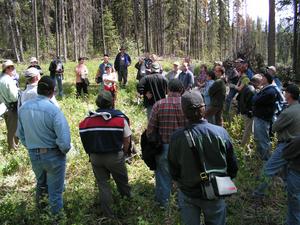 Community Forest Agreements: From Pilots to Performers
June 2nd to 4th, 2006 Burns Lake
Sponsored by the Burns Lake Community Forest Corporation, the Village of Burns Lake, Lakes District
Jim Langridge MOFR, Robin Hood BCCFA President and Ron Greschner, MOFR
View the Conference Highlights and Recommendations
Speaker presentations:
Bruce Fraser, Chair, Forest Practices Board – <Making the Community Forest Truly Experimental
Greg Halseth, University of Northern BC – Preparting Now for the Future – Practical Issues and Opportunities for the Small Tenure Holder
Ben Parfitt, Canadian Centre for Policy Alternatives – Ensuring Life after Beetle (Part 1) ; Life after Beetle (Part 2)
Keith Rush, Forest Safety Council – Forest Worker Safety Introduction ; Safe Companies Overview; Safe Companies
Jim Langridge, Director Tenures Branch MOFR – CFA Program Upate (Part 2)
Ron Greschner, Senior Tenures Forester, MOFR – CFA Program Update (Part 1)
Lisa Ambus, UBC Forestry Dept. – The Evolution of Devolution: The Community Forest Agreement in BC
Jason Kruger, Ministry of Small Business and Revenue – Forest Revenue Audit Program; Legislative Changes to the Forest Act
Hon. Rich Coleman, Minister of Forests and Range, addressing delegates at the BCCFA conference.
Related Post
June 17, 2019
2019 Conference and AGM June 12-14 in Mission Speakers'