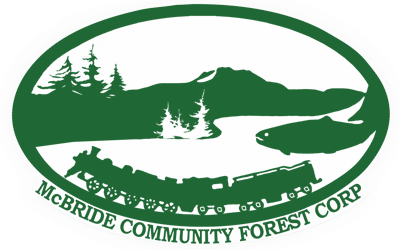 Here is to more bright moments for the McBride Community Forest, to its board of directors, management team, shareholders and to the community. The past 10+ years have seen a lot of controversy and conflict. But thanks to the consistent efforts from chair Joseph Rich and others, along with support from the Ministry of Forests and the new General Manager Ray Thiessen, the future is looking great. Well done everyone.
McBride Community Forest regains its footing: AGM
By Andru McCrackn
The McBride Community Forest Corporation held its annual general meeting on October 8 and it was good news all around. The corporation has successfully managed their overcut and are entering a new five year cut control period without penalties. They have new directors, significant investments in silviculture, reduced the amount of wood left in slash piles, they continue to work with recreation groups, donate to community groups and have had no new compliance and enforcement issues. Chair Joseph Rich said the workload placed on the board of directors has decreased over the last year, since they hired a full time general manager. "Consequently the board was able to concentrate its efforts more on governance and policy rather than operations," said Rich. …General Manager Ray Thiessen said they are generating more earnings from less volume and that the community forest has finally turned an important corner.
Related Post
November 27, 2020
Recommendations for Change The purpose of this report is
November 27, 2020
The MLA from Castlegar is the first woman to